Authors: Kristin Litzelman, Sara Richie, Jenna Klink, Sara Fox, Ruth Schriefer and Debbie Moellendorf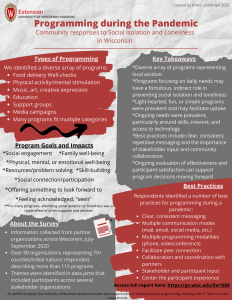 Social isolation and loneliness are critical concerns for both physical and mental health. The experience of isolation and loneliness results in a cascade of stress hormones and inflammation in the body, and has been associated with increased risk of depression and anxiety, physical conditions such as heart disease, and even increased risk of premature mortality (National Academies of Sciences & Medicine, 2020). During the COVID19 pandemic, isolation and loneliness have increased in part due to physical distancing and other necessary public health measures (Killgore, Cloonan, Taylor, Lucas, & Dailey, 2020), although many families have exhibited remarkable resilience (Beam & Kim, 2020). Even as safe, effective vaccines become available, public health measures will remain a priority and thus social isolation and loneliness continue to be top concerns.
Communities have responded with efforts to provide social connection and reduce loneliness among older adults and other vulnerable subgroups. To understand, collate, and amplify these efforts, we surveyed partner organizations in July-September 2020. Organizations reported up to four specific programs as well as information about their efforts throughout the pandemic, best practice and lessons learned, and perceptions of ongoing need in their communities. A data jam approach was used to identify themes in the data. The two driving questions were: 1) How have communities responded to social isolation and loneliness during the pandemic? and 2) What lessons can inform community efforts going forward? Stakeholders from multiple organizations participated in these data jams, providing diverse perspectives and insights on the themes emerging in the survey responses.
Click here to read the full report.
Click here for printable one-page summary of the findings.
Download Article