Click here find archived recordings of the Wise Wisconsin Series
Wise Wisconsin Winter Series 2023
Click here to register! Zoom links will be sent out each week to registered participants. Sessions will be recoded, captioned and posted to the Wise Wisconsin Series Playlist on YouTube.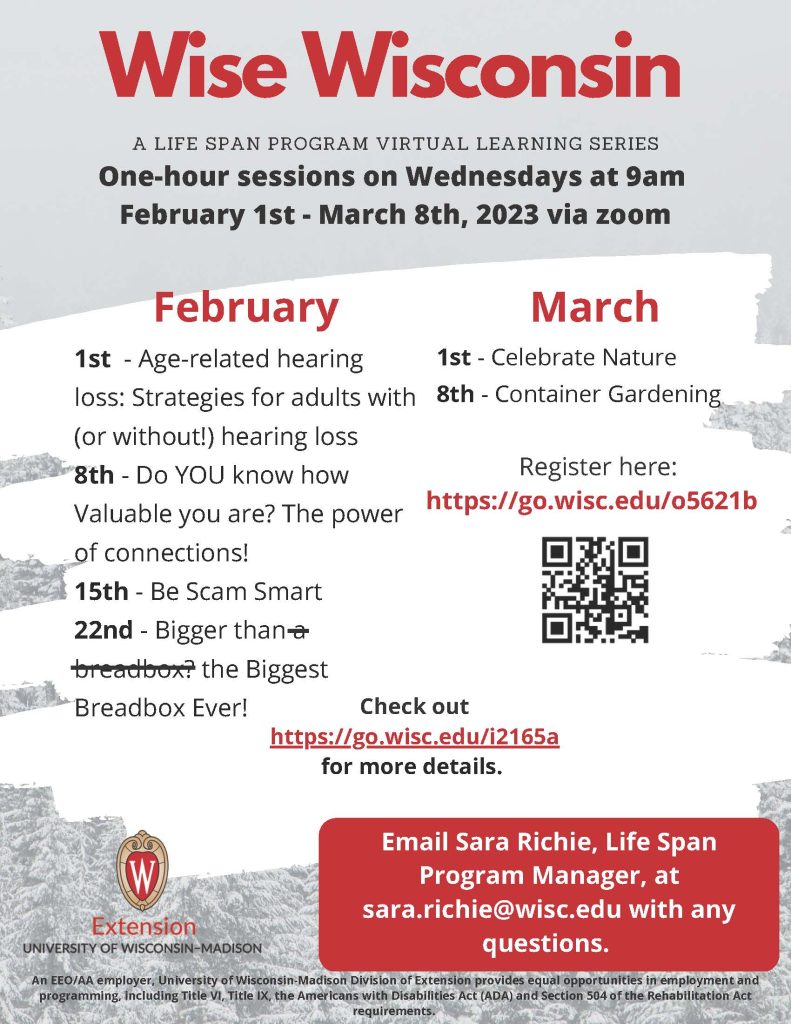 Session descriptions:
Session Descriptions:
Age-related hearing loss: Strategies for adults with (and without!) hearing loss
Join Audiologist, Erin Nelson-Bakkum, AuD, CCC-A, to learn more about hearing loss, risk factors and treatment strategies anyone can use including hearing aids, advocating for yourself and/or low or no-tech solutions. 
Do YOU know how valuable you are? The power of connections!
For many, Covid taught us a very valuable lesson. No man or woman is an island. Our mental health and personal well-being are directly connected to the quality of our relationships with those around us. We will discuss how to improve your own happiness and impact those around you by building quality connections.
Be scam smart
Did you know…
financial scams cost older adults lost $1.7 billion in 2021?
scammers can be a stranger or someone you know?
scammers use common methods as well as new ways to part you from your money?
This session will build your awareness of scams and provide ideas to prevent you from being a victim.
Bigger than a breadbox? the biggest breadbox ever!
Join Extension educators from the Community Development Institute in a conversation that will show you how much more Civic Engagement is than you have been told to imagine and why getting into that wide world intentionally is one of the healthiest things that you can do for yourself and the people around you!
Celebrate Nature
Are you discouraged by what's happening in the world today? Join us and you'll rediscover the wonders and possibilities that surround us everyday just waiting to be noticed and celebrated.
Container Gardening
Container gardening has become a hot topic in recent years as more of us are living in condos and apartments and would like to garden. Also, as we age, gardening with containers allows us to garden with less bending and kneeling. To be a successful container gardener, you need to know not only about the plants that grow in containers but also how growing in containers affects plants. The presentation will review the advantages and disadvantages of different container types, container soils and their characteristics, watering and fertilizing schedules, vegetable and flowering annual plants that are well suited for containers and designing container plantings.